Street naming and numbering policy
Appendix E - Street Nameplate Specifications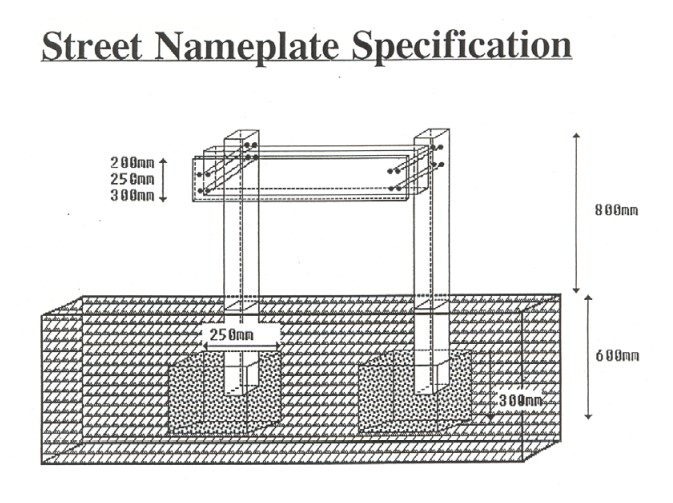 The posts will be 75mm square and 1.40m long and will have a dowel fitted at the bottom. The backboards will be 25mm thick and either l00mm or 150mm deep depending on width of plate.
All backboard plates are supplied 1.84m long and it is essential for the dimensions of nameplates to be specified together with the number of plates being ordered to enable correct quantities to be supplied .
All backboards are to be fitted -flush-with the top and sides of posts using 2 No. 75mm rust proof screws per plank per side. All plates are to be supplied -pre drilled" and are to be fitted flush on all sides with backboard, screw heads to be burred after installation to prevent future removal.
Where possible nameplates are to be erected -back to back" on separate backboards and utilising only two posts where they will be clearly visible from both directions but any sites must be agreed with a Council representative before installation.
Installation will be as attached drawing ensuring mounting height of 800mm to top and minimum depth of 300mm x 225mm square of quality concrete around bottom section of post. Backfill and consolidate remainder using excavated or other approved material.
The typeface for Welwyn Garden City and the north of the district is KINDERSLEY
The typeface for Hatfield and the south of the district is MOT
Remember
TAKE CARE WHEN EXCAVATING. LIVE CABLES OR OTHER SERVICES MAY BE BURIED. IF IN DOUBT CONTACT THE STATUTORY AUTHORITIES.
Local street name plate manufacturers
Filcris
Red Barns
Ashwell Road
Guilden Morden
Royston
Hertfordshire
SG8 0JY
Tel 01763 853026
Fax 01763 853366
PGM Signs
New Mill End Farm
New Mill End
Luton
Bedfordshire
LU1 3TS
Tel. 01582 462913
Fax. 01582 462960
General Principles for Street Name Plate Positioning
Plates must be at least 1.0m from the kerb
Where there is footpath only the plate should be located at back of footpath
Where there is verge and footpath the plate should either be located at back of footpath or on the verge, but at least 1.0m from the kerb
For further information please contact the Hertfordshire County Council Highways Office for Welwyn Hatfield on 0300 1234047